November 24, 2023
Happy 11 Years and Counting, YOYO!
I'm Joanna, an Accounts Executive of YOYO, and I'm excited to offer you an exclusive glimpse of YOYO Philippines' most highly anticipated celebration of the year through my lens.
This year's anniversary theme, "Elevating Eleven," truly embodies the essence of our journey—a continuous commitment to growth, innovation, and, most importantly, our incredible team. A special shout-out to the brilliant minds behind this inspiring theme and the meticulous planning that brought us all together for this momentous occasion to commemorate such a significant milestone.

PART ONE – CEO'S TALK
As we celebrated YOYO's 11th anniversary, our CEO and Founder, Fukada-san a.k.a. Kyon took us on a heartfelt journey, recounting the challenges that shaped our story and led YOYO to where it stands today.
While I may be a recent addition to the YOYO family, I'm so impressed by the amazing journey this company has been on over the past 11 years! Not to mention the vibrant culture that YOYO continues to uphold –fostering exceptional teams.
Bright smiles lit up the venue, courtesy of our charming hosts for the day, Luke and Bryan.

MESSAGE FROM OUR CBO, MBAK CHACHA
Mbak Chacha, our Chief Business Officer who traveled to the Philippines from Indonesia, also graced us with an inspiring talk, igniting our excitement for the future that lies ahead. (This was on top of all the training and talk she did for 3 consecutive co-working sessions. Kudos to you, Mbak!)

Q&A SESSION
Yep, we also had a quick Q&A session where Kyon and Mbak Chacha answered the most difficult questions from the team. We even had Kyon serenade us all! So much takeaways, indeed.
What a meaningful and empowering first part for our anniversary celebration! And of course, to cap it… GROUP PHOTOS!
PART TWO OF THE CELEBRATION AT LOLA CAFE
Adorned in elegant modern Filipiniana attire, an air of excitement and anticipation enveloped the members of the YOYO Philippines family as we all assembled at the venue for the second part of our anniversary celebration.
TESTIMONIALS
We jump started the evening with heartfelt speeches from three extraordinary members of the team, sharing their testimonials and emphasizing the impact of YOYO in their professional and personal journeys.
We heard from Nicole of Dev Team who shared how she landed her dream job in her dream company. I don't know about the others, but I was teary-eyed the whole time like an emotional mom! Well, I am a mom! What a perfect excuse!
Luke from the Accounts Team who recently celebrated his 1st year anniversary with YOYO also shared his journey with by far the best team and company he's worked with in his entire career life. He was well-prepared for his talk, he even had a deck! Wooh! As expected of our Mr. Nice Guy – always going the extra mile!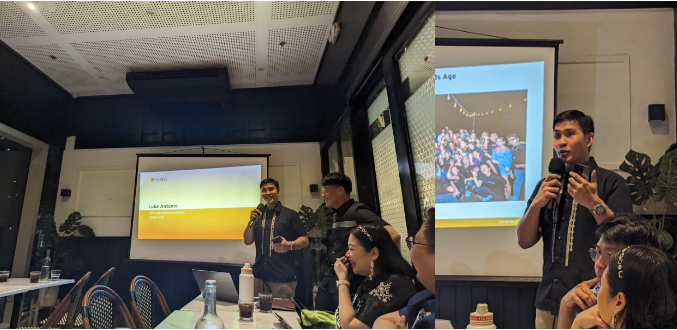 To complete the lineup, we got Kara from the Marketing Communications Team. Who's leading the awesome MC Team? Oh well, someone oozing with awesomeness as well!
Hearing the testimonials from our team members not only made me emotional, but it also made me realize how much YOYO has impacted my own life. Truly, my gratitude is overflowing for the opportunities that YOYO has given me to learn and grow. So proud to be a part of this team! I mean, duh?!
DINNER
After the speeches that had everybody teary-eyed and cheering, an enchanted dinner followed and delighted our taste buds with a mix of carefully curated flavors, leaving us all with contented smiles and fulfilled appetites.
A heartfelt round of applause to our dedicated team whose unwavering commitment made this night a tremendous success. (Special mention to Toni who spearheaded the committee!)
GAME TIME: Pinoy Henyo
While we were waiting for everyone to finish dinner, we had a couple rounds of Pinoy Henyo games to practice our cheers for the awarding ceremony coming after. MC Team representatives dominated the game.
AWARDING CEREMONY
After the sumptuous dinner and the games, the program continued. Now it was time for the awarding ceremony where cheers and applause filled the room as deserving individuals were honored for their exceptional contributions and unwavering dedication to YOYO's success.
Tine from MC Team, took home the MVP Q3 award. Well-deserved!
Kara, the MC Team Manager, received the Office Sunshine Award 2023. Keep shining your light, Mare! 
Coming back to claim the Helping Hand Award for 2023… Christine Joy Leynes! Congratulations, Tine! Your expertise and willingness to help everyone in the Team has been extraordinary. Another well-deserved win.
We've come down to the last award of the evening, the Always Present Award 2023. Guess who bagged this award! Back on stage for her back to back to back win, Christine Joy Leynes from MC Team! CONGRATULATIONS!
CLOSING
The "Elevating Eleven" anniversary dinner was a heartfelt celebration of YOYO Philippines' dedication to excellence and innovation, with a special emphasis on the incredible bond shared among all of us and the vibrant journey we share together.
Celebrating this meaningful milestone alongside each of you is truly an honor, and personally, I am eager to witness the exciting chapters that await our remarkable YOYO family.
Here's to eleven wonderful years of achievements and the countless moments yet to come!
Cheers to family, and cheers to YOYO!